The County of Jackson Welcomes you to
The Crossroads of Michigan!
Jackson County is truly the Crossroads of Michigan. It is accessible from Interstate 94, US 127, Highway 50, Highway 106 and Highway 60, making Jackson an easy stop over for most travelers.
Jackson is rich in history and heritage. Our quaint towns and the city of Jackson invite you to experience the many historic sites and tour some of the oldest homes in Michigan. Jackson was instrumental in the Underground Railroad, the Civil War, as well as being the birthplace of the Republican Party.
Family, fun and value are key attributes in Jackson and the community is anxious to share it all with visitors. Our cultural activities abound from symphony concerts to museums to Broadway shows and Shakespeare.
Come visit our numerous festivals and celebrations throughout the year. Every year we have a cake festival that is very popular with local and tourists. Visit Top Tier Cakes to see some of their wonderful creations.
Outdoor activities are a favorite of Jackson natives and visitors alike. Jackson is the perfect location to hunt, fish and hike. There are hundreds of lakes, 36 city parks, 16 county parks and large tracts of state land to use for recreation. You can choose to visit wild life sanctuaries, nature centers and state recreation and wildlife management areas.
Golf is one of Jackson's recreational assets. It has one of highest concentrations of golf courses in the nation. It has been rated one of the best golf values by Golf Digest. Book one of our great golf packages today!
Enjoy your visit at the place we call home.
Jackson's Great Outdoors
Jackson County is dotted with rolling farmlands, numerous lakes, streams and marshes. The varying terrain makes for picturesque scenery, wildlife habitat and fertile growing conditions. Jackson is definitely the right place to experience and interact with nature.
In the "It's Only Natural" section you will find many interactive farm and wildlife activities. Explore nature at wildlife sanctuaries or environmental centers. Learn about llamas, fishing, deer, and buffalo at the local ranches and farms. Farm markets and U-picks are plentiful around the county.
For a fun and interesting afternoon, follow our wine trail to the vineyards and wineries in the area.
For the outdoor sportsman Jackson has State recreation and game areas for hunting and over 188 lakes for fishing and boating activities.
For the tamer appetites you can enjoy nature at the numerous County and township parks.
Enjoy!

Lodgings: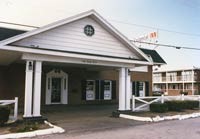 517-764-3820
I-94, Exit 145
6027 Ann Arbor Road
Jackson, MI 49201
This 60 room motel is located right off exit 145. Large truck parking available. A full service lounge on the premises. Outdoor pool.